Why is it that BASIS Curriculum Schools students are not only some of the highest acacdemic achievers in the world, but are also among the very happiest with their school experience?
Join us for a special panel discussion on this very topic, featuring BASIS Curriculum Schools Co-Founder Dr. Michael Block and graduates of BASIS Curriculum Schools. Attendees will learn more about how support is built into our acadmic program, and what the plans are for the culture of learning at BASIS Independent Manhattan.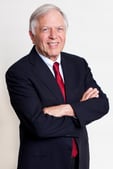 About Dr. Michael Block: Having had an eminent career as an educator, professor, and policymaker before opening the first BASIS School in 1998, Dr. Block was also included on Noodle.com's list of the 67 Most Influential Educators of 2015. He earned an MA and Ph.D. in economics from Stanford University and was a University of Arizona Professor of Economics and Law for more than 25 years, as well as Director of the University of Arizona's Office of Economic Education. Dr. Block has also served as a founding member of the U.S. Sentencing Commission and as a consultant to the World Bank.
April 12 | 6:30 PM
795 Columbus Ave
New York, NY 10025

Can't make this event? Don't worry, we have plenty more:
Prefer to simply reach out directly to our admissions team? Email manhattan-admissions@basisindependent.com or call 347 305 4960.